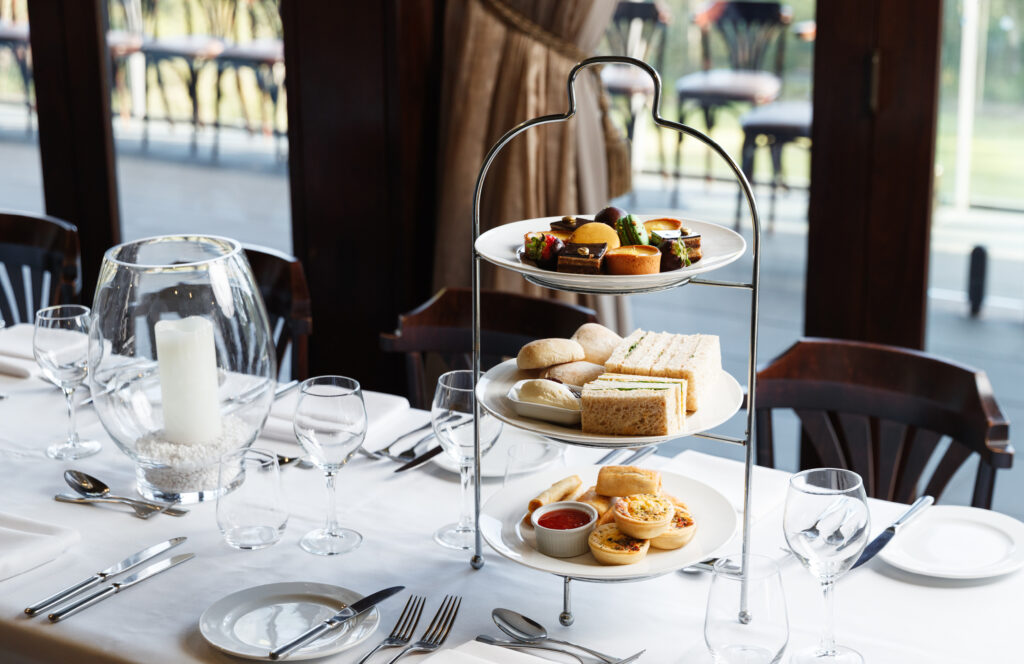 What's On - Experience our High Tea
Join us for High Tea at Harrington's Bar & Grill. Serving a delicious array of sandwiches, pastries, tarts, and more, accompanied with your choice of sparkling, wines, tea and coffee, our highly sought after high tea experience is perfect for every occasion. Book your table now!*


*Available Wednesday to Sunday, from 12 – 3pm
24 hours' notice is required.

WEDNESDAY - THURSDAY
Lunch 12:00pm - 3:00pm
Dinner 6:00pm - 8.30pm

FRIDAY - SATURDAY
Lunch 12:00pm - 3:00pm
Dinner 6:00pm - 9:00pm

SUNDAY
Lunch 12:00pm - 3:00pm
1 Forestgrove Dr,
Harrington Park NSW 2567
Overlooking lush bushland and forest, Harrington's Bar & Grill is the perfect location for every dining experience
What's On at Harrington's Bar & Grill
"Beyond amazed at the caring, respectful and kind staff. Thanks to the team for ensuring our birthday celebration went according to plan. Chris and his staff were so accommodating and understanding of our cultural practices and I could not fault one thing! Thank you for making our night memorable and I highly recommend not only the venue or food but most importantly the people who are at the forefront and behind the scenes. Thank you again!."
- Semz M
"Had dinner here with my wife and it was absolutely spectacular. We shared the bruschetta to start. The mozzarella buffalo was a nice touch. My wife had two cocktails which she thoroughly enjoyed. For main, I had the rump steak with the prawns added. A generous helping of prawns were provided and they were delish. Not usually a wine drinker so the waiter suggested a pinot noir, which paired beautifully with the steak. My wife had the linguine napolitana, I had a little taste of that and it was mighty fine as well. Finished off with some dessert; apple tart for my wife and gelato/sorbet for me. Capped off the night perfectly. Not to mention the ambience of the place is just magical and the service was outstanding. We felt really spoilt and will be back again."
- Aidan Maher
"I have eaten here more than 10 times over the last six months. The food is consistently amazing and the portion sizes are generous.
Their eye filet is the best in the Macarthur region. I can also recommend the spicy chicken fettuccine and the Harrington burger."
- Ben Smith