Meet our TVC Vibes Ambassadors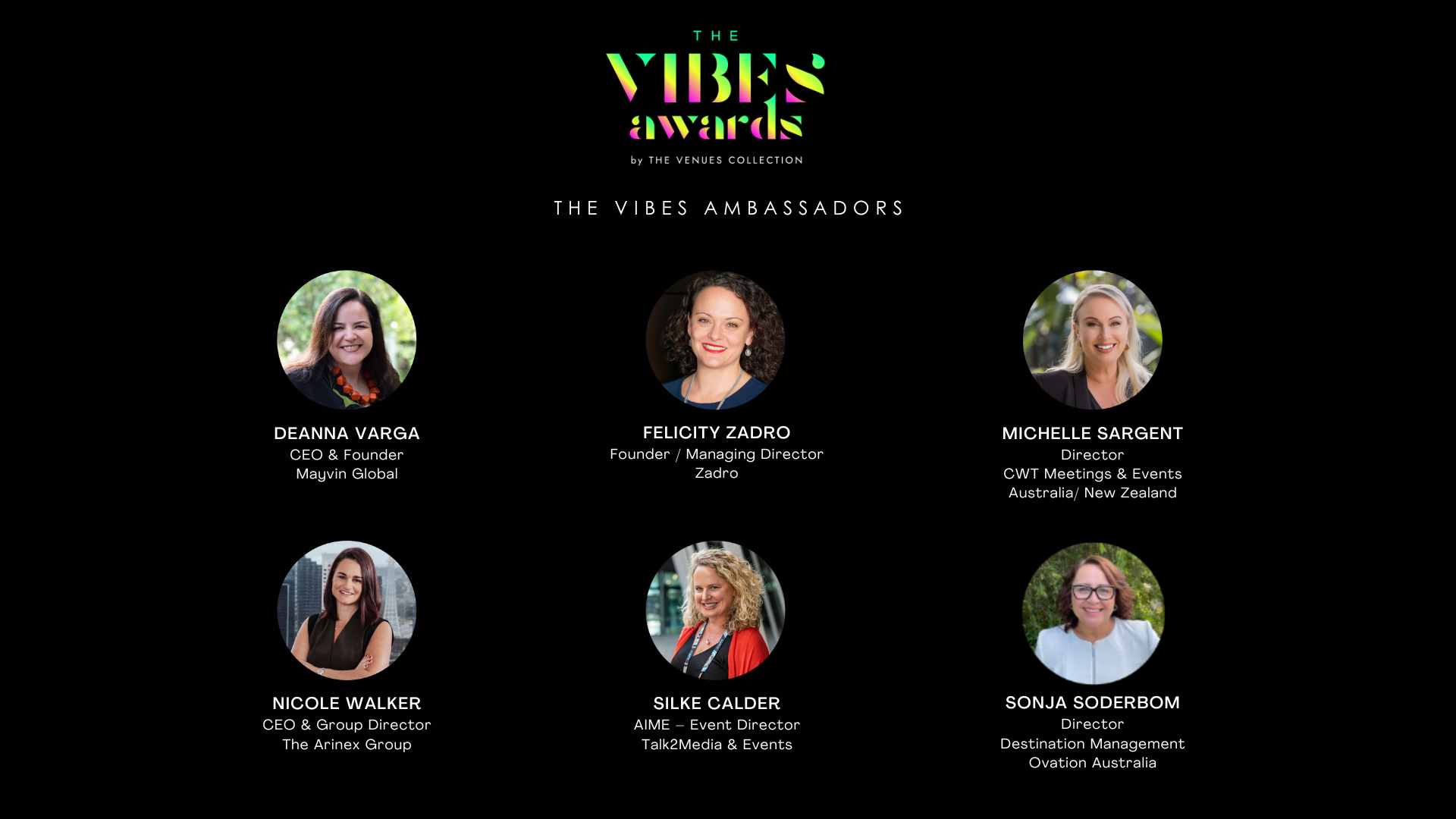 Six industry leaders share their vision for the future of business events in Australia
To support our inaugural The Vibes Awards by The Venues Collection, we've called upon six industry leaders to join us as Vibes Ambassadors. These six event professionals are passionate about the success and sustainable future of the business events industry and they embody the 'vibes' that our awards programme looks to celebrate.
As well as judging nominations for first edition of The Vibes Awards, TVC Vibes Ambassadors are a part of a 'best practice' brain trust that supports the development of future talent within The Venues Collection network.
Below they share their vision for the future of business events in Australia.
Deanna is a business events professional with 25 years' experience working across associations, government, SME and NFP. She specialises in revenue generation and strategy as well as capability building. Deanna is CEO and Founder of Mayvin Global and Independent Board Director of ASUM, Transport Heritage NSW and Regional Advisory Board (Asia Pacific) of PCMA.
Deanna's wish for the future of business events in Australia:
"I wish we would take the learnings from 2020-2022 and apply them to how we manage and engage with event delivery. I've already attended several conferences and events where we've reverted back to 2019 formats – with stale and predictable methods. Where is the risk taking? Yes, it comes at a cost, but we've just come out of two years of learning how delegates want to consume differently and be part of the story."
Felicity Zadro founded Zadro in 2007, inspired to support companies through excellent communications. She has worked with more than 450 companies and specialises in designing strategic communications for organisations. Her extensive experience and training in change, leadership and culture combined with her business acumen, allows Felicity to broaden the standard scope of communications practice and make a real difference to organisations.
Felicity's wish for the future of business events in Australia:
"Like all industries, we are dealing with a dearth of highly qualified, motivated people. Whilst this is a challenge, we're not alone. We need to define the business events industry as a fulfilling and long-lasting place to have your career. We need to talk to the diversity, the achievements and the fun. We need to focus on the business events industry as a serious driver of the economy – and fund and commission research to scope the size of the industry.
"We have scraped along for too long. We need a professional, robust and economy-wide approach to really showcase the value of the industry and to really make a difference to the challenges of the workforce."
Michelle has a true passion for the events industry having held senior roles at venues, hotels and attractions within Australia. Currently the Director for CWT Meetings & Events, Michelle also actively participates in panel discussions and advisory board roles within the industry.
Michelle's wish for the future of business events in Australia:
"One of the biggest challenges in our industry at the moment is staffing. My wish for the events industry is that we can reignite the passion into the next generation to educate them on the fact that our industry holds boundless opportunities… My fear is that many feel that the events or hospitality industry as a whole offers little in the way of financial security or long-term success.
"On the contrary, the events industry provides one of the world's most exciting career paths with limitless opportunities to travel, nurture solid business skills and progress to senior positions."

Nicole Walker, The Arinex Group
As CEO of the Arinex Group, Nicole provides leadership, management and vision to achieve the strategic objectives of both the company and its clients. Leading Australia's first carbon-neutral event management company, Nicole is committed to sustainable event delivery and partnering with associations and groups to deliver inspiring experiences.  
Nicole's wish for the future of business events in Australia:
"More unification of the industry. Major steps have been made [with regards to the newly formed Australian Business Events Association] but we should keep moving forward with this collaboration and ensure that the industry is represented and supported by one guiding association.
"I also hope that with increasing awareness of environmental issues, businesses and event organisers will be able to adopt and deliver more sustainable events with better and more sustainable service sector offerings."
Silke is the Event Director for AIME, a leading trade event for the business events industry in the Asia Pacific region. A highly motivated sales and events specialist, Silke is passionate about business events and shaping the growth of the industry. Prior to joining the Talk2 team, Silke was Head of Sales at Messe Frankfurt Venue GmbH, one of the world's largest trade fair and exhibition venues.
Silke's wish for the future of business events in Australia:
"A united voice… While being adaptable, flexible and being able to innovate and problem solve is part of every business event professional's DNA, if nothing else, the past few years have proven what we can achieve working together. That's why I think having a unified voice to support and advocate for the industry is crucial to the success of everyone working within Australia's business events community."

Sonja Soderbom, Ovation Australia
Sonja is the Director of Ovation Australia, where she develops innovative and engaging incentive and event programmes in the South Pacific that activate corporate brands. As a destination specialist, she brings 20 years of experience in meetings, incentives and events management. She has a true passion for the industry, has mentored many young professionals and is on the board of SITE ANZ, supporting the incentive industry through education and providing best-in-class incentive programmes.
Sonja's wish for the future of business events in Australia:
"I hope our industry becomes more buoyant with a new generation of talent emerging to bring us into the future with fresh ideas and new creative solutions that will, in turn, show that our industry is innovative, full of incredible possibilities and continues to create further interest so that it is a career of choice."