As a Strategic Partner of Business Events Sydney (BESydney), Watersedge supports the success of global events that have a significant impact on the NSW visitor economy. The venue has hosted countless welcome receptions and social evenings for international scientific congresses and business meetings for the Australian corporate sector. We understand the value of events as part of a successful business strategy and support our clients throughout various phases of planning and execution.
Full Building Activations
Cocktail Party between
2,500 to 5,000

guests
This is a haven for events that allows organisers to create unique activations for different sponsors or a series of unique learning experiences for guests. Imagine creating a distinct brand experience or immersive sponsor exhibits in each of our six event bays on Level 2, coupled with a roaming culinary journey across three uniquely-themed spaces on Level 1 while guests can network on our al fresco Ground Level terrace that stretches Sydney Harbour.
Events at Watersedge capture the very best of this global city, with the Sydney Harbour Bridge and Sydney Opera House right on your doorstep. Just WOW.
Half Building Activations
Cocktail Party between
1,200 to 2,500

guests
Embrace the great outdoors – and Sydney's enviable weather – on our harbourfront terrace. This Ground Level event space, spanning Bays 1 to 5, can be extended by eight metres* into Campbell's Cove Promenade for cocktail events of up to 2,500 guests.
Whether you're dressing this space in a specific theme or creating a concert with a dedicated stage to host international musicians, this versatile space can be transformed to foster business connections and unforgettable moments with colleagues and friends.
The party doesn't stop there. Inspire meaningful conversations in our indoor spaces on Levels 1 and 2, which can be easily dressed to suit any event theme. Our "little bit of everything" food stations and beverage bars will impress the most discerning foodies.
*permits required
Cocktail Party between
500 to 1,000

guests
From a tropicana party to a neon-lit festival, there are several ways to transform our five bays to ensure your event leaves a lasting impression.
Encourage guests to mix and mingle as our service team delivers delicious canapés across the floor. Create talking points with a variety of beverage activations – think a local wine showcase or sustainable mocktail bar – while guests take in the magnificent harbour views.
This Ground Level space is also ideal for a seated business luncheon (up 200 guests) that showcases some of our favourite dishes from Harbourfront Seafood Restaurant!
Cocktail Party between
500 to 1,200

guests
With private access via three dedicated entrances on Hickson Road, our six bays on Level 2 can be utilised for weather-proof, multiple-day event experiences or product launches.
The private space is one of Sydney's best kept secrets, with heritage features and multi-million-dollar modern facilities.
Join the likes of Dior, Nine Network Australia and The McCallan Whiskey and make this exclusive space your own.
Up to
120

guests for banqueting events or

300

guests for a cocktail party in each function room
Each function room on Level 2 of Watersedge encompasses two adjoining bays. For corporate meetings and banquet events, organisers can utilise one bay as a pre-function and catering area and the other as the main plenary or dining space for 120 guests.
During the day, natural light and panoramic views of Sydney Harbour make our rooms a popular choice for immersive learning and development events or brainstorming and ideation sessions.
After sunset, the awe-inspiring views of an illuminated Sydney Opera House, coupled with the Harbour Bridge, make for an impressive backdrop to any corporate dinner or cocktail party. We can also open the floor-to-ceiling doors to create instagrammable moments.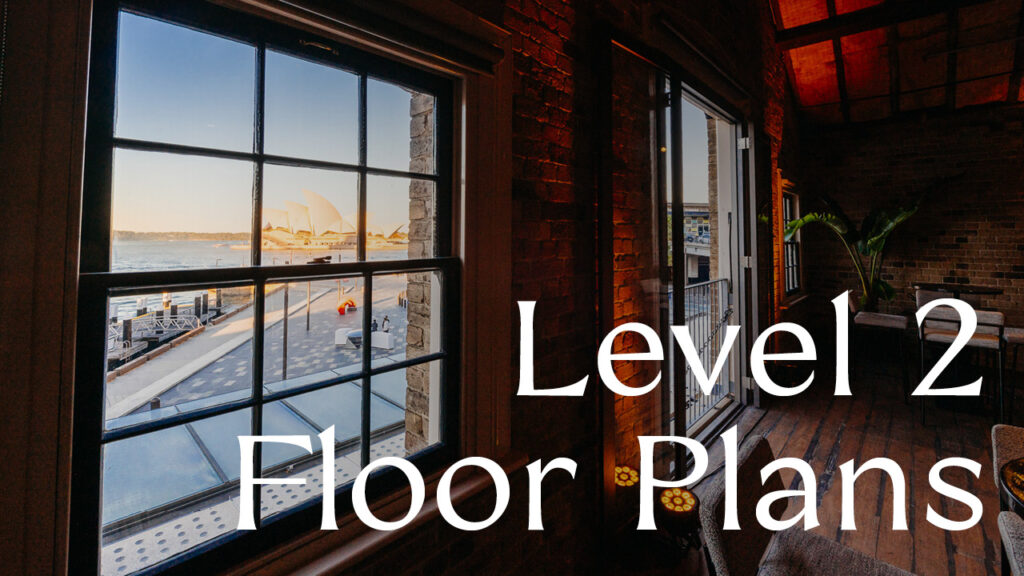 "A very big thank you to you and your team with our first event in Sydney since 2019!
It was such a pleasure to work with you in the planning and without your prompt replies, assistance and advice it wouldn't have been such a huge success! It was a delight to work with you!
Thanks so much for giving us early access. Made the event so less stressful to have the time to get set up!
Absolutely brilliant view of the Sydney Opera House and a sight we will all remember!
It was a superb night with the perfect combination of a fab venue, good F&B and great presentations!
So all in all a brilliant event. Thanks again for all your ongoing support in the lead up to the big day."
- AMEX
"The event was a huge success and I appreciate it as it was an important event. I am grateful to the team's support both leading up and onsite.
Thank you for all of the hard work put into this and I look forward to working with you more next year."
- PWC