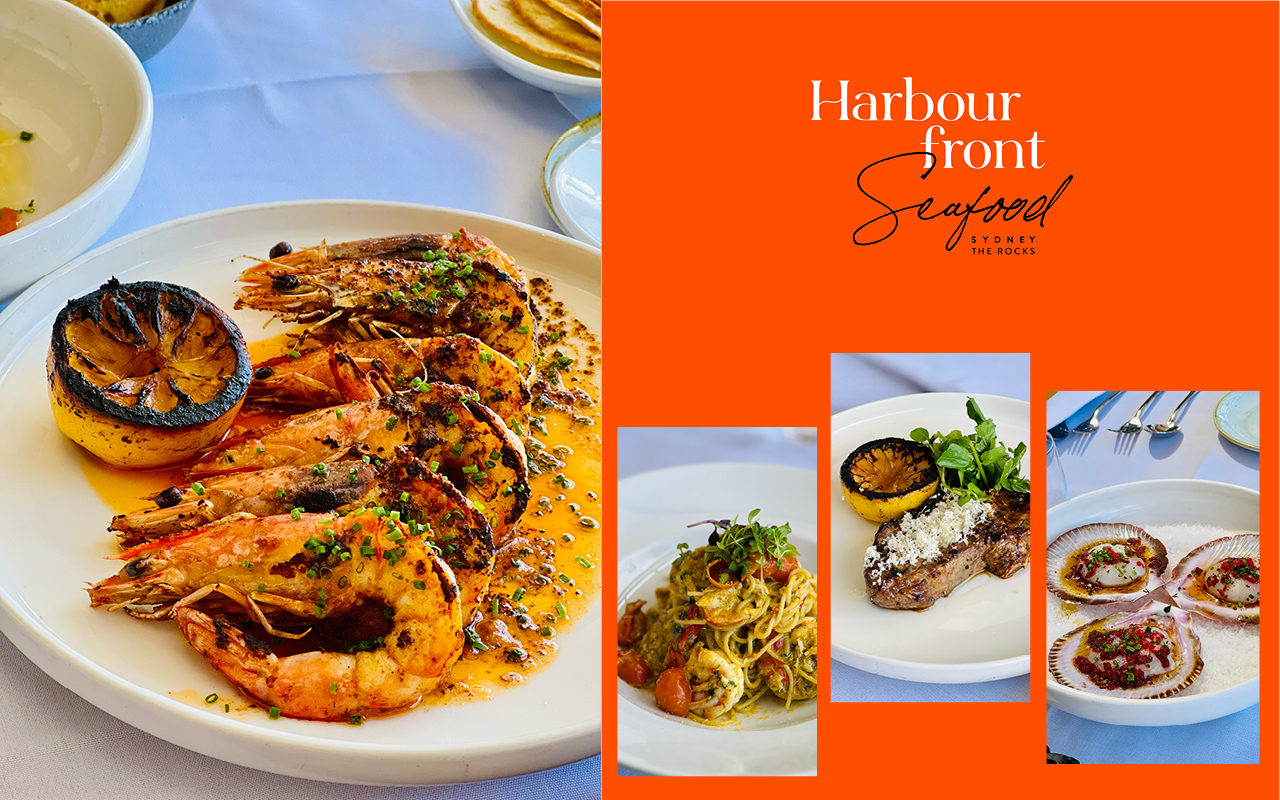 Harbourfront Seafood proudly unveils our new seasonal menu, a reflection of our commitment to freshness and innovation. This change is driven by our dedication to offering the freshest produce, complemented by contemporary culinary techniques. With each season, we aim to capture the essence of the time of year, showcasing ingredients at their peak, ensuring our guests enjoy the most vibrant and flavourful dishes.
Our passionate culinary team, always pushing the boundaries of creativity, collaborates with local producers to explore unique and exciting flavour combinations. This collaboration is vital to our ethos, allowing us to continuously evolve and present our fans with an ever-changing gastronomic landscape. Our summer menu is a celebration of the season's bounty, designed to offer our guests a fresh and dynamic dining experience that features:
Shark Bay scallop ceviche citrus, Davidson plum and finger lime (gf, df) is a vibrant mix of fresh flavours. Succulent scallops are marinated in citrus, creating a delightful balance with the tangy Davidson plum. Bursts of finger lime add a refreshing zing, making this dish a light, flavourful celebration of the sea's bounty.

Grilled Eastern King Prawns in Sriracha Butter with Caramelised Lemon (gf): This dish combines the tender sweetness of grilled prawns with a zesty kick from Sriracha butter. The caramelised lemon adds a smoky tang, creating a delightful balance of spicy, sweet, and tangy flavours.

Char-grilled veal cutlet with freshly grated horseradish, caramelised lemon and extra virgin olive oil (gf, df): This main course celebrates simplicity at its finest. The veal cutlet, grilled to tender perfection, is enhanced by the spicy zing of freshly grated horseradish. Caramelised lemon lends a sweet acidity, and a drizzle of extra virgin olive oil adds a smooth finish, showcasing the natural flavors and quality of the ingredients.

The Capellini Pasta dish combines tiger prawn and blue swimmer crab in a rich sauce of tomato, chili, garlic, and white wine, finished with a sprinkle of bottarga for a savoury depth. This creates a luxurious blend of seafood flavours and textures, perfectly complementing the delicate pasta.

Situated in the heart of The Rocks, Harbourfront Seafood becomes a summer haven. Our outdoor undercover terrace offers the perfect backdrop to enjoy the warmer weather, with stunning harbour views and the lively ambiance of the bustling city. It's a place where one can fully immerse in the joyous spirit of summer in Sydney.
Join us at Harbourfront Seafood this summer for an unforgettable dining experience where fresh flavors and spectacular views come together in perfect harmony.
Re-introduced as Harbourfront following a multi-million-dollar rejuvenation of the heritage-listed Campbell's Stores, this renowned seafood restaurant has served thousands of fans for over five decades. Serving the freshest Australian produce with a modern twist, the restaurant's new covered terrace has panoramic views of the Sydney Opera House and Sydney Harbour Bridge. This is the preferred place to showcase Sydney to visitors, especially during festive periods like VIVID Sydney, Melbourne Cup and New Year's Eve.